The first wealth is health. Your diet is a bank account, and Mindful Eating is a suitable investment. Healthy eating is a sign of self-respect. You can't control everything in life, but you can control what you put in your body.
WHAT IS MINDFUL EATING?
Mindful eating is using mindfulness to control and create consciousness to your cravings and eating cues. It is about observing your body how it reacts to the foods and drinks you consume, both emotionally and physically. It is in simple words acknowledging the sensations and responses to eating.
Mindful eating isn't linear; it's more like a spiral taking you deeper into knowing how to care for yourself.
Eating is one of the core things we do every day on an average of 3 to 4 times. Many of us with our busy life take almost zero time to think before eating, we just shove food whatever it is, whether hungry or not, whether our body needs it or not. This is what is called mindless eating.
The most common example of mindless eating is eating when bored, imagine not thinking of exercising or doing something meaningful we just sit and binge eat whatever we see and like.
We eat tubs of ice cream because we are sad, eat loads of cake even if it's someone else's birthday, overeat thinking the food will go waste, eating junk every single time thinking I will exercise tomorrow or from Monday I will eat healthily. We have all done it. When all this is combined, our body has now become a dumpster where we just dump food good or bad.
The above-told examples are just a few, and we don't realize it until our body starts to enter into defence mode. Mindful eating is not easy, but the outcomes are spectacular. You may be thinking of it as dieting, always eating healthy, restricting calories, but let's just break that myth real quick.
Next time when you find yourself mindless eating stop and think about it and then take the right step. Focusing on what you eat right from when you shop to putting the food in your mouth having all your senses open, paying attention to the whole experience, and how it is affecting your mind and body is what mindful eating is all about. All you need is to actually start and try, and you will definitely see the results.
LET'S GO THROUGH SOME SIMPLE WAYS YOU CAN PRACTICE MINDFUL EATING: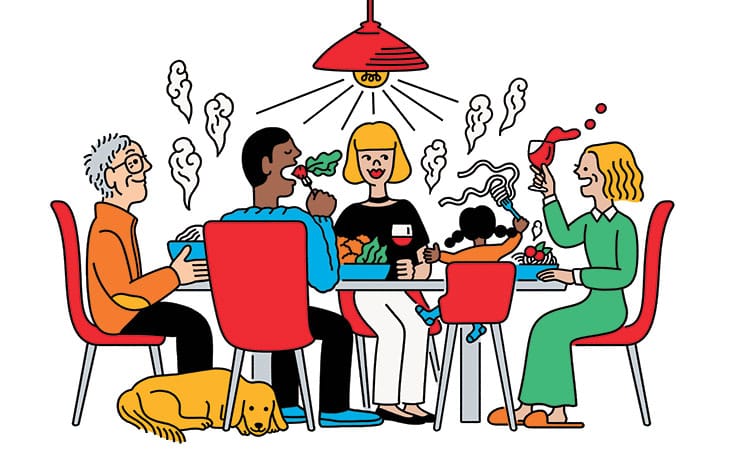 1. Shopping :
The key is to avoid any food that has a TV commercial. We often see people in shopping centers just throw food items in the cart probably only focusing on price. We rarely see people standing and reading the contents on the package maybe because they fear others are going to judge them. Start considering the health value of every item you purchase. Believe, it is the best and the most straightforward way you can start the process of mindful eating. So make sure you shop the right products.
"IF YOU KEEP GOOD FOOD IN YOUR FRIDGE, YOU EAT GOOD FOOD"
2. Do not skip meals.
We know this but we still somehow ignore it. When we have an appetite, we sit on the table and enjoy the food as well as fill our stomach but when we are hungry, and all we can think of is filling our bellies, and as a result, we overeat and don't enjoy the food. Try to cook your own meals this slows down the process of prompt eating. The focus is to prioritize eating at the right time.
"EVERY TIME YOU EAT IS AN OPPORTUNITY TO NOURISH YOUR BODY"
3. Take small portions
Don't eat less, eat right. It is easier to taste and enjoy food when your mouth isn't full. Eat the right amount avoiding wastage and overeating. One of the best way you can practice this is by putting down your utensils often. You can take as many portions, but each portion should be small and as needed.
"TO LENGTHEN THY LIFE LESSEN THY MEALS – BENJAMIN FRANKLIN"
4. Eat slowly, and appreciate the food
Eat slowly and pause and take time to feel your food. Feel the texture, taste, smell, colors, shapes,and the environment. Completely integrate all your senses towards the process. Savor each bite and feel it. Be grateful for the food and enjoy it thoroughly.
"FOOD IS NOT JUST EATING ENERGY; IT'S AN EXPERIENCE"
5. Activate your senses. Breath.
Imagine you have just been dropped off on this planet, and you know nothing about where you are. You have never experienced anything from Earth. With no experience, there are no judgments, fears, or expectations. It is all new to you. Take a few deep breaths and relax, before you even pick up the food to eat.  Just allow the mind and body to settle. Focus on the food and its elements. Don't rush and analyse how full you are with every portion. To eat is a necessity but to eat intelligently is an art.
"LISTEN TO YOUR STOMACH NOT YOUR PLATE"
These were some ways, and it may seem very rigid, but if you follow even one step, it will create an impact for sure.
IS MINDFUL EATING RIGHT FOR YOU OR NOT?
To be very honest, it is for everyone and will work for everyone, mark my words. Of course, it is only going to work if you wholeheartedly wish for it to work. It won't if you are not ready to make changes in your lifestyle. The characteristic of broad application makes it a powerful tool for developing a healthier, happier relationship with food. Since there is no restriction on food while practicing mindful eating, it helps you create more positive thoughts and emotions surrounding food and eating.
LET'S LOOK AT SOME MORE BENEFITS :
You start to enjoy the food.
You learn to eat at the right time.
You start to stay away from unhealthy food habits.
You will want to follow it like a ritual.
You understand and reconnect with your body.
You experience balance and acceptance in life.
You experience stress-free life.
We all know what is right and what is wrong, but simply knowing it will not make any sense. It's what is called practice as you preach. Eating habits not only include one person but impacts everyone around you. We have to go step by step and then as you get the hang of the process it will be much easier.
A TAKE-HOME MESSAGE:
Food dramatically affects one's mind, it can make you energetic & lively and at the same time make you sluggish and tired. Mindful eating helps to tune with the body much better. Like a lot of people, I too am guilty of eating junk every time without even thinking once and i am pretty sure you feel the same way.
In this time of the pandemic we all are going through a lot of lifestyle changes. We are striving towards healthy eating habits so as to improve our immunity. We also live in a time where obesity and other body issues are so frequent in people and we dread exercise. Therefore, mindful eating is one of the most effective ways you can face these challenges.
The concept is not only helpful when it comes to eating but also in other aspects of life. It can help us find deeper fulfillment and gratitude in life which in turn increases positivity.
Today the internet has made our life so much comfortable in so many different ways; there are numerous sites and channels from where you can get healthy and yummy recipes, get tips and connect with diverse communities that practice healthy lifestyle.
Sharing your experience is one of the best things you can do to spread the right word. By encouraging good habits of eating in life, we have the opportunity to move into self-love, forever change our relationship with food and in turn leading to a healthier and happier life.
| SO HERE'S TO THE BETTER HABITS, POSITIVE THINKING, CLEAN EATING & MOST OF ALL TO BE THE BEST VERSION OF YOURSELF|